*  No extensions or suspensions are permitted on membership and monthly offers
*  Intro offers expire 30 days from date of purchase
Our Private Session Pricing
* 24-hour cancellation policy for sessions
* 12-hour cancellation policy for classes
* classes and sessions and packs expire 6 months from purchase date
Pre/Postnatal Pilates Packages
Signature Classes
Reformer Sculpt
Pilates is synonymous with the Reformer. Lovers of this #1 apparatus flock for the prescribed flow and order of movements, variations and body changing results. It's pure Reformer.
Core Tower
All springs all the time for Pilates-style resistance training exclusively on the Tower apparatus. Classes rotate through the springs, bars, and straps for a 55-minute full body zing. Our most popular class!
Chair Balance + Strength
A pedal, only 2 springs, gravity and instability combine for what is Pilates' most uniquely designed apparatus and group class experience.
Classic Mat
You'll experience free form movement – just you, your own body's resistance and a mat – flowing through Pilates' "original 34" movements in our 45-minute classically inspired Mat class. We'll include bands, balls, circles and other small props. For the truly experienced try our Advanced level Mat class.
Combo Classes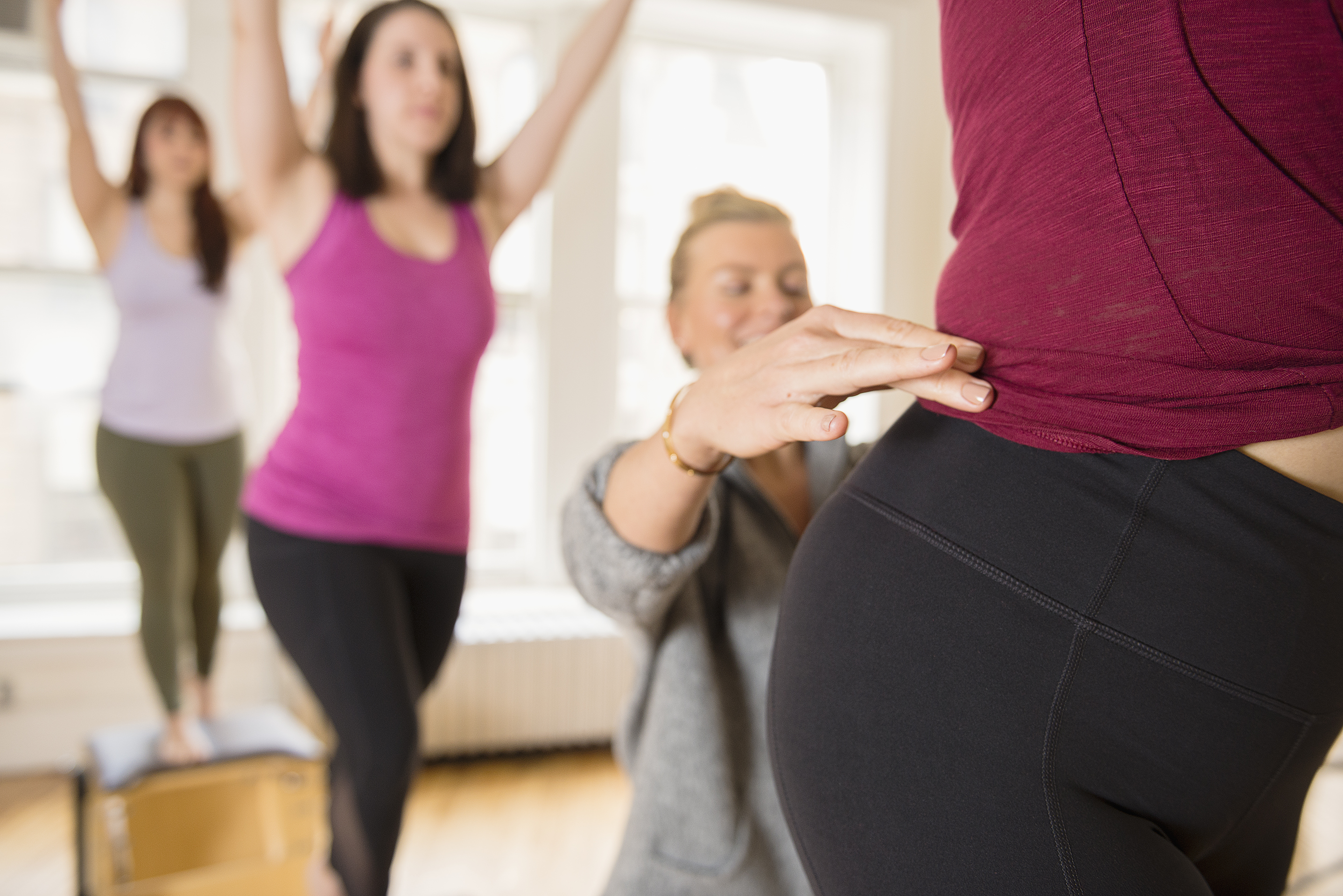 Reformer Elevate + Jumpboard
Don't be fooled by the fact that you lie down a lot in this class! You will be jumping! Pilates CAN be a cardio workout thanks to the Jumpboard attachment for the Reformer. Expect the abs and legs to fire with unexpected and unique choreography.
30/30
You'll experience the two most popular apparatus in Pilates – the Reformer and the Tower or half-Cadillac for the most maximized external spring load. 30 minutes on each.
20/20/20 Combo
The trifecta apparatus experience. 20-minutes each on the Mat, Tower and the Wunda Chair means you work at brisk pace and each class will be a new experience with so many classic Pilates movements to choose from.
Reformer Barre
The traditional ballet barre workout has fused with the spring-load, choreography and core strengthening that you find on the Reformer. Leg, butt and thigh series' abound – either standing, balancing, kneeling and pushing and pulling springs.
Specialty Classes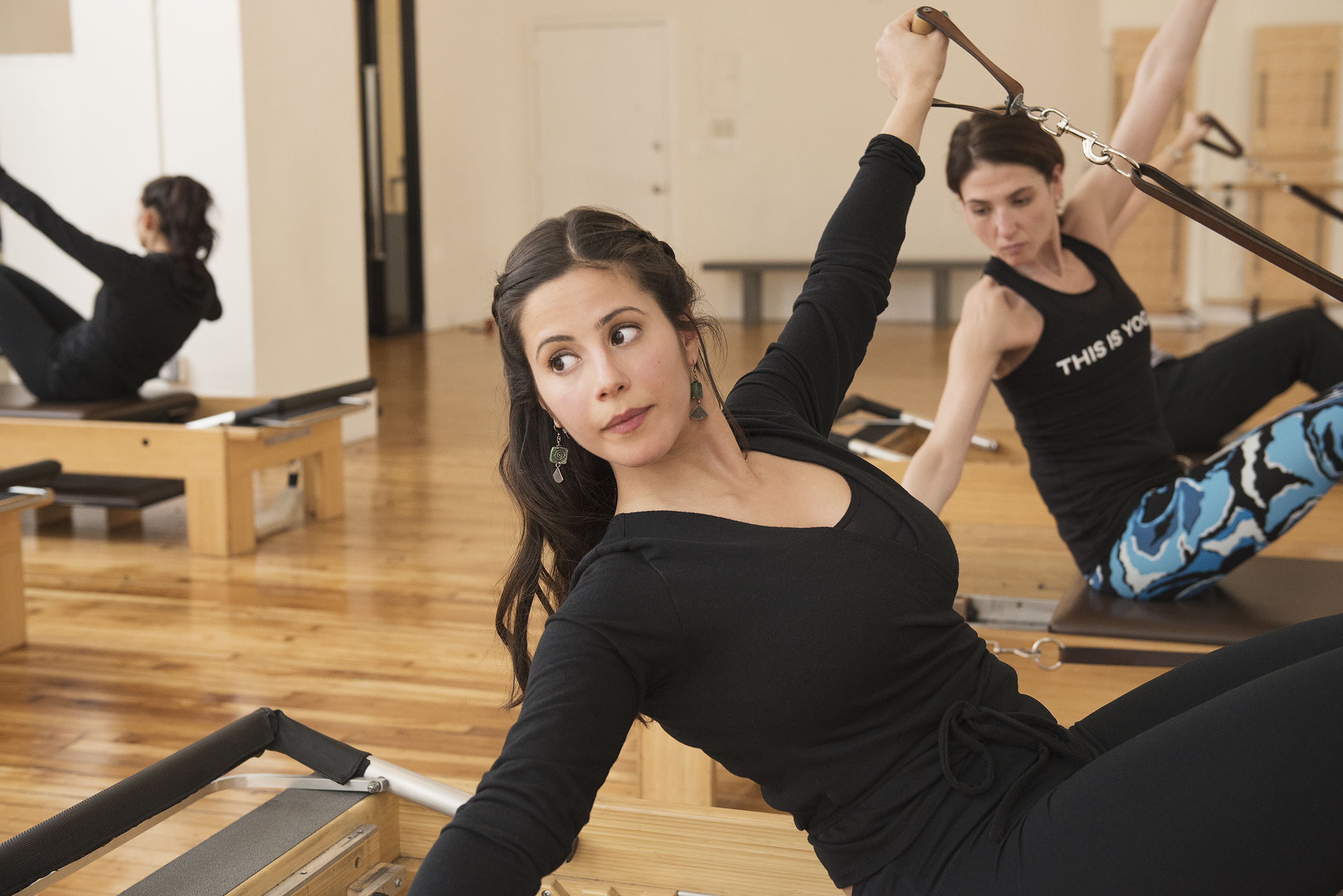 The Pilates Workout (trio)
The class formerly known as "semi"  is the quintessential Pilates training experience you get in a private session but for almost half the cost.   In this trio class, our teachers will ensure that the benefits of a private session – a hands-on, customized experience – is tailored for YOUR level.  No need to adapt to a cookie cutter class format.   We adapt to you with level-appropriate cues, modifications, eye toward precise form and proper spring load so you can feel progress within the Method.
Stronger Longer for Seniors
For over 7 years, we've been refining Pilates training and delivering an over-50 specially designed class in our Stronger Longer apparatus class. Our specially trained instructor focuses on functional fitness through Pilates. Mobility through stretching, balance training, and strengthening essential core musculature via bridging, planking, and squatting are staples of the class. Creative use of Pilates and props on the apparatus are incorporated into the class structure. This class is also good for people with an injury or issue looking for a group class experience.
Prenatal Classes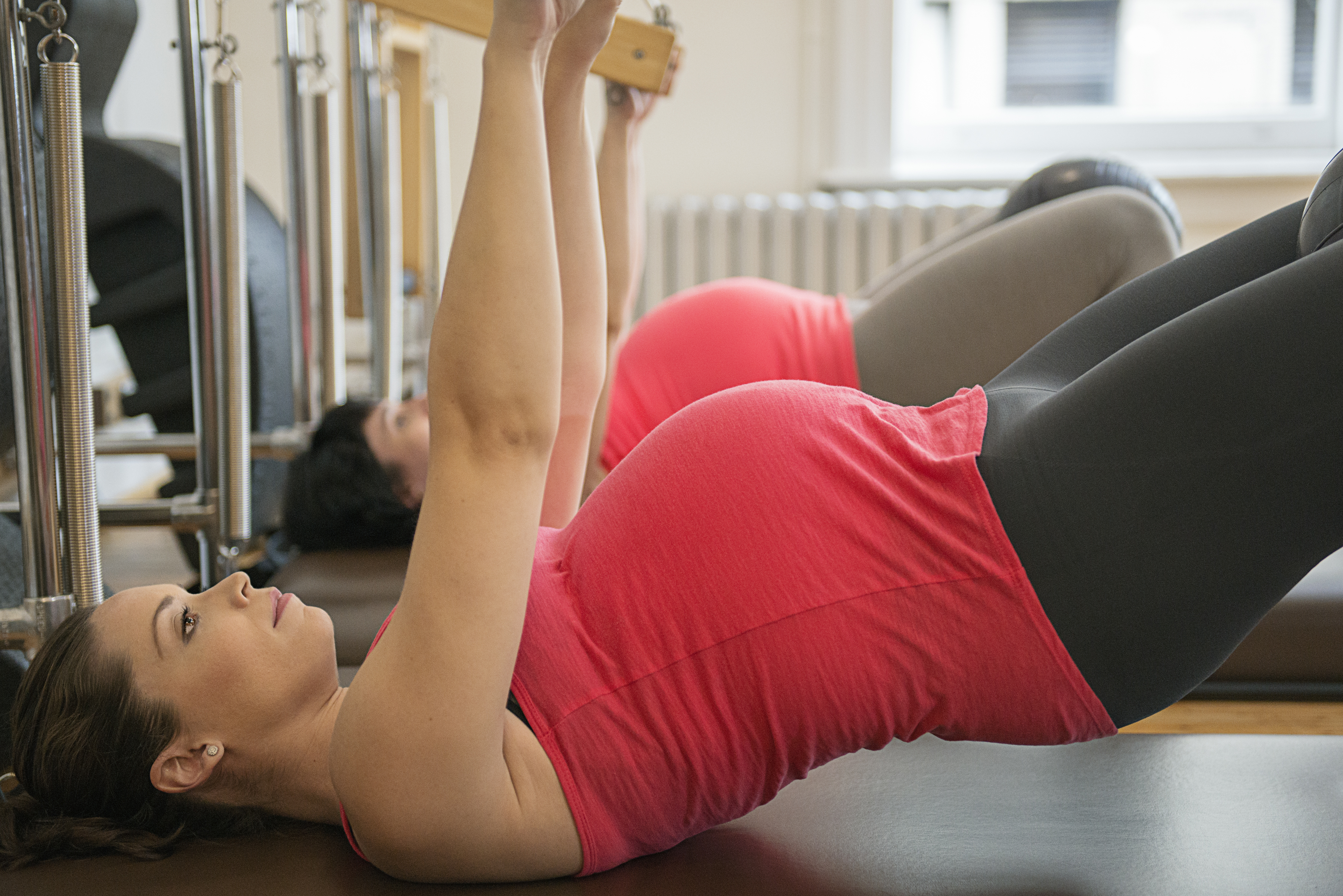 Pre/Postnatal Reformer Sculpt
We've taken our popular signature Reformer Sculpt workout but modified it! You'll increase strength while keeping the body and posture properly aligned. Designed with seated abdominal work and arm toning.
FOCUS: Core strength, stamina, muscle memory
Pre/Postnatal Tower
Our Tower workout uses spring resistance to help release the body through the waist and pelvis while focusing on toning the shoulders, arms and pelvic floor. Stability work on balls is weaved into the system to gain strength safely.
FOCUS: flexibility, joint mobility, labor prep
Pre/Postnatal Classic Mat
From classic Pilates magic circles, foam rollers, big and small balls and weights, this mat class will ease swelling and maintain strength, tone and flexibility.
FOCUS: posture, core stability, balance
The Pre/Postnatal Workout
After years of teaching and designing our pre/postnatal programming, our in-house prenatal experts felt we needed THE workout. One that utilizes various apparatus, not just one, and a class that would be unexpected and different each week. You will never be bored and work in a new way every time! Expect Reformer, chairs, barrels, towers… the works!
FOCUS: breathing and pelvic floor techniques, balance, strength of deep muscle layers and release of tight muscles
Customized Pre/Postnatal Private Session
Our specially-trained prenatal teachers create and modify a Pilates workout system utilizing our studio's apparatus. Safety AND keeping you fit guide a customized program that can follow you until the very end of your pregnancy and beyond.